Send money to a mobile wallet
Ria makes it easy to send funds quickly and securely to mobile wallets all around the world. Get your money where it needs to go in real time, all with just a few taps on your smartphone.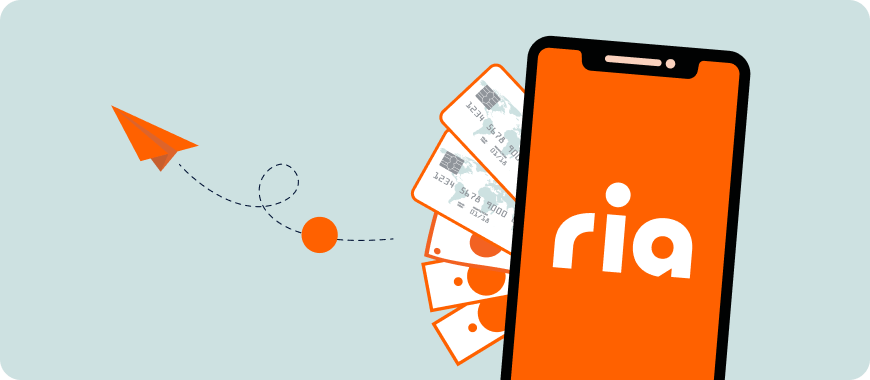 Send to mobile wallets in four easy steps
Download the app and create your account. Tap "Send money now" and enter the details of your transaction.
Tap "Continue" and select an existing recipient or add a new one. Choose "Mobile wallet" or "Mobile money" as the delivery method.
Enter recipient details and tap "Continue". Choose the wallet provider, then enter the recipient's mobile wallet phone number.
Add your payment information and follow the prompts. Tap "Continue", review the details of the transfer, and tap "Confirm" to finalize the transaction.
Send money to wallets with Ria
Discover the wallets available in the countries covered by Ria
Other ways to send money with Ria
Send money online
Visit our website to check rates and send money quickly, easily, and securely to more than 165 countries from the comfort of home.
Send money through the app
Send and track your transfers anywhere, anytime using our mobile app.
Send money in person
Visit a Ria store or an authorized Ria agent near you today to send money by cash or debit card.
a bit of statistics
Mobile wallets: strong worldwide growth
The adoption and use of mobile wallets continues to accelerate all around the world. In 2022, mobile wallet transactions totaled more than $1.26 trillion globally, over $22 billion of which were international remittances. Mobile wallets have seen especially strong growth in regions where many adults lack access to a traditional bank account, such as sub-Saharan Africa, South Asia, and East Asia. Collectively, these regions accounted for more than 90% of all mobile wallet accounts and over 97% of the volume of mobile wallet transactions sent in 2022.

Source: "The State of the Industry Report on Mobile Money 2023," GSMA.
Frequently Asked Questions
1.
What is a mobile wallet?
2.
Can I send money to mobile wallets with Ria?
Ria Financial Services. © 2023 Continental Exchange Solutions, Inc. All rights reserved.